Super Controversial: Marketing Your SaaS Product on Quora
When I discovered Quora, I fell in love with the website within seconds. My first session lasted for probably more than 2 hours. The Quora Digest I receive in my mailbox every other day is probably the best newsletter in the world. They carefully curate a selection of articles based on what you read and follow on Quora. It's as accurate as it gets.
Now about numbers, in June 2017, Quora was used by 200 million unique visitors per month. It's available in multiple languages and is the 91st most popular website in the world with visitors mostly from the US (35%)

How Quora Works
Quora is a website where users can ask questions and get answers from professionals in the field, other marketers, saas founders and experts, celebrities or the common folk. The best answers get upvoted and moved up in positions.
Once you create a profile and follow topics which interest you, you can start answering questions relevant to your expertise and knowledge. The more profound the answer is, the higher the chance for it to get upvoted. After you built up a reputation in specific topics, people will start requesting answers from you as well.
Quora is attracting hundreds of thousands of new users every month and with that comes greater responsibility to deliver better content. Many marketers think that they will get easy backlinks from Quora, but there are no workarounds. If you don't provide value, either the community or Quora's algorythm will detect dirty behaviour immediately.
How Can SaaS Growth Hackers Use Quora
So enough of the stats an intro, let's get to growth hacking! How to promote your brand or SaaS business on Quora? There's quite a few options and I will list the most interesting ones below:
Create a Trusted Profile
Write a profile description, which includes your brand or link. Every time you'll answer a question, the description will show along your name.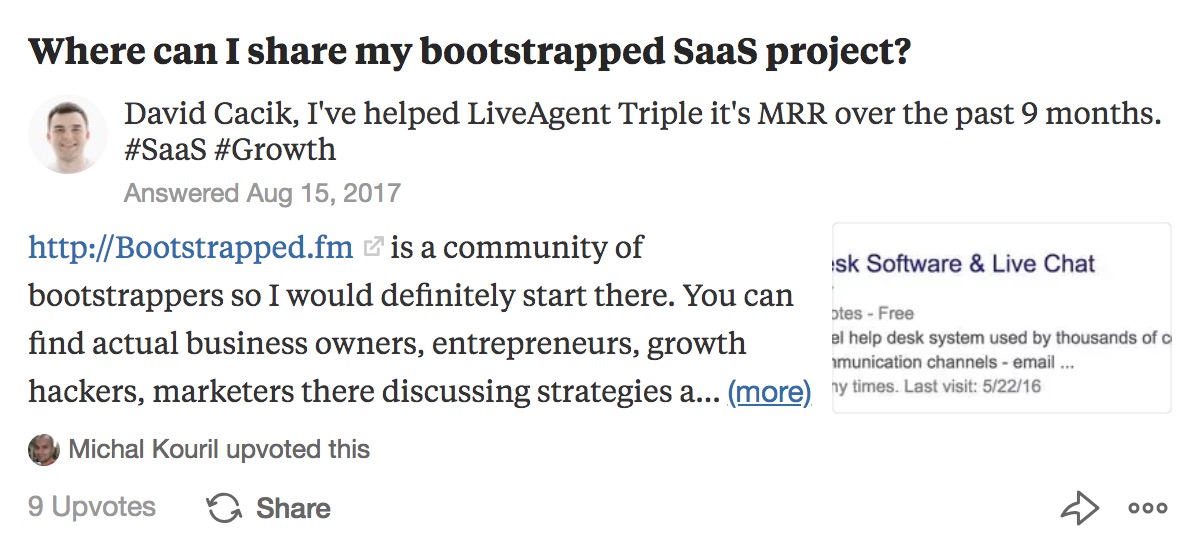 Follow Relevant Topics and Write Profound Answers
Follow the topics that interest you the most and where you can provide expert answers. Write profound answers, comment on topics, setup notifications, look for answers with lots of upvotes or Pro tip - look for answers relevant to your brand which rank well in Google and try to post answers there.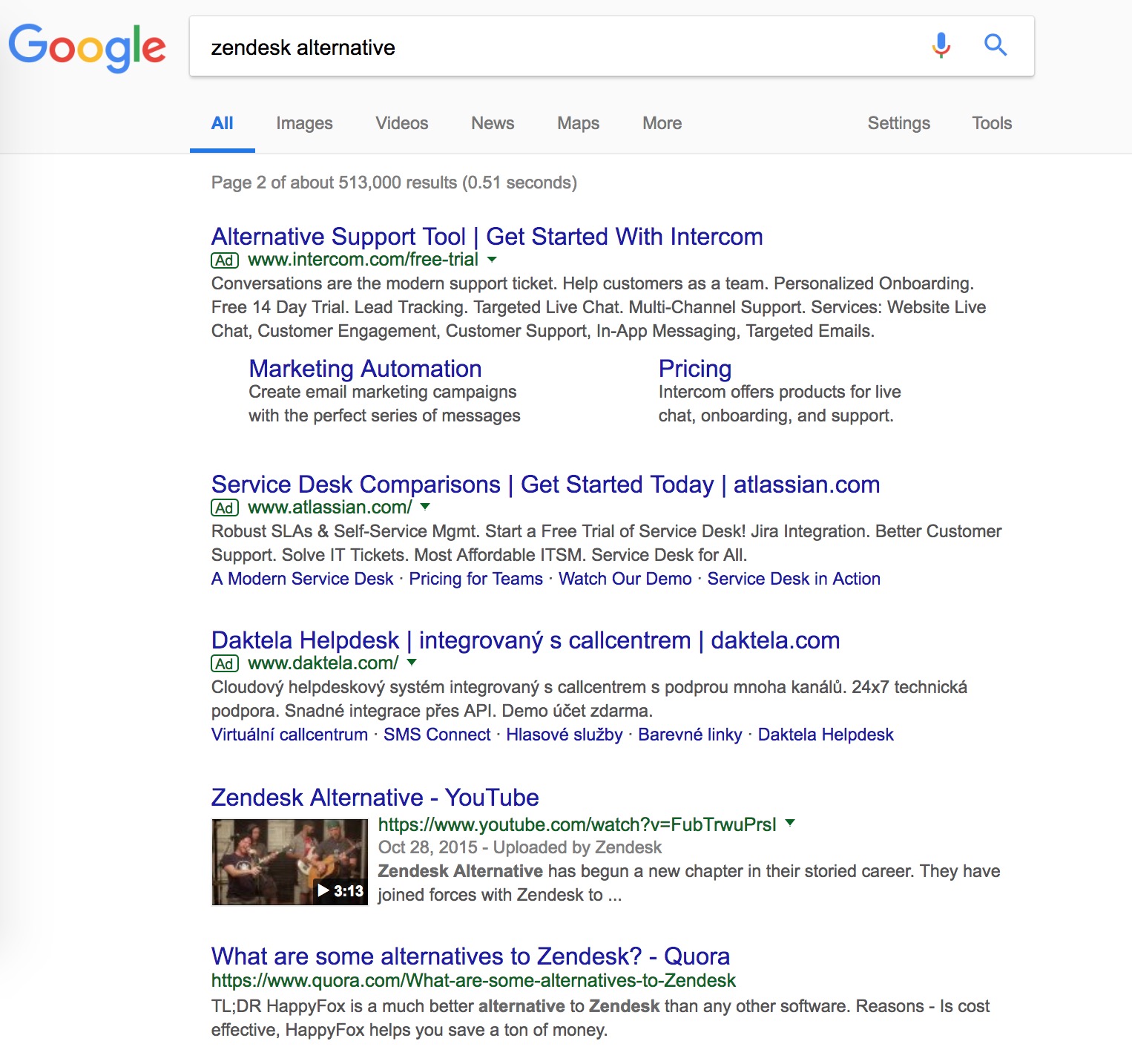 Re-answer Questions You Have Answered on Your Blog
This is a good one and can even work reversely. Have you recently published a fresh piece of content which you think is better than anything else out there? Look for similar topics on Quora, answer questions and link to your blogpost. If there are particular questions with a lot of answers/upvotes/seens, chances are the topic gets a lot of visits. What you can do is not only answer the question, but also write a detailed blogpost and comment with an excerpt of the blogpost on Quora.

Build a Brand Profile, Collect Feedback & Answer Customers' Questions
Anyone can create a Topic on Quora so it's a perfect opportunity to get discussion about your product started. Additional you can collect feedback from your users, answer customers' questions, create FAQ sections or even gather reviews. Now remember, Quora is #91 website in the world so chances are, some of the answers will rank well in Google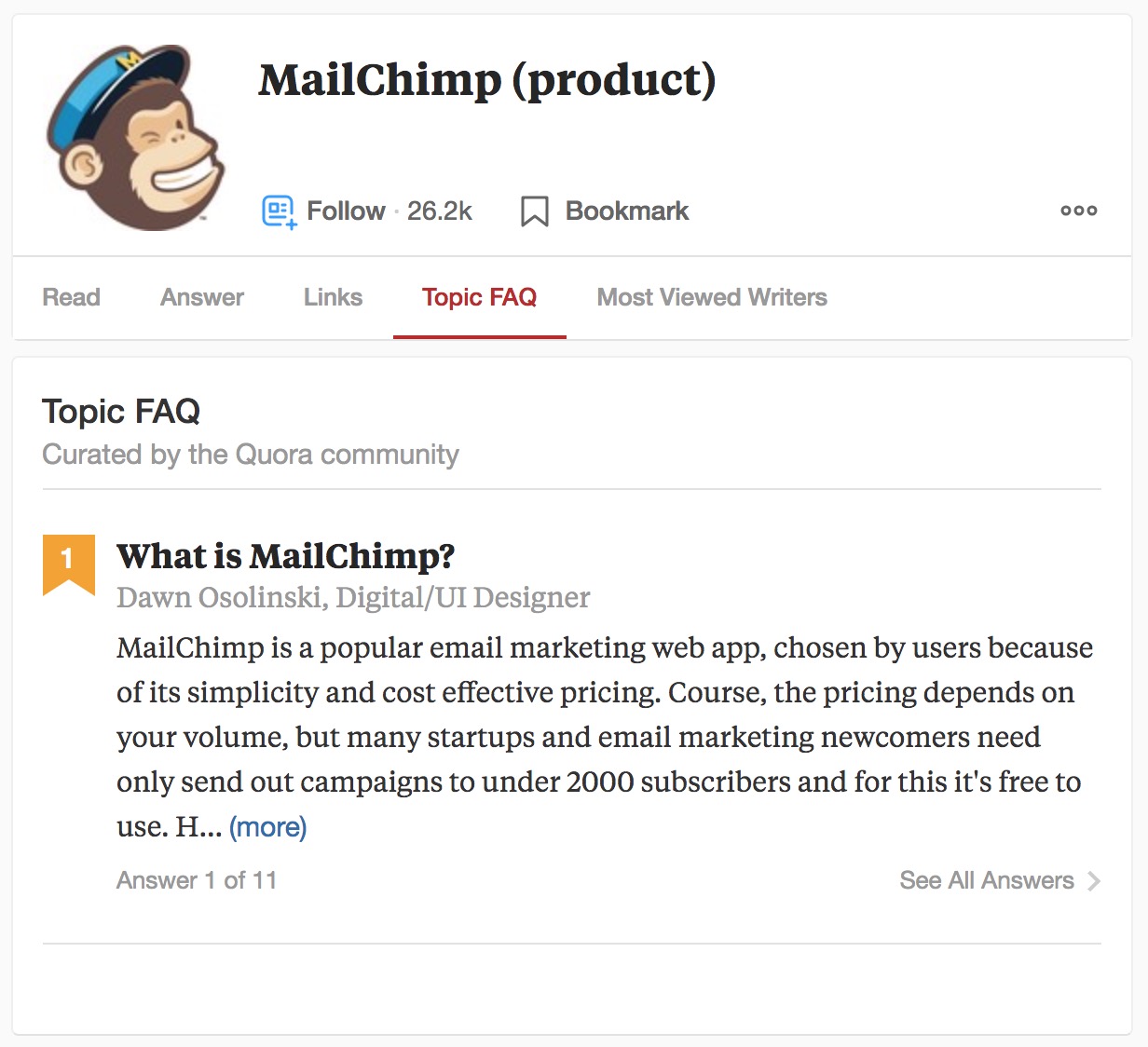 Keep the value. Respect the community.
Quora was built around valuable content provided by its community. Other than reddit, there are almost none public forums where celebrities and well known entrepreneurs (Like Larry Page, Elon Musk) post content and interact with us - common inhabitants. At all costs, respect and follow Quora's rules. Don't try to buy upvotes or hack the system, because it will backfire. I've seen a lot of profiles get banned forever and trust me, it's just not worth it.
Who to follow?
Here're some SaaS and Growth Hacking relevant topics that you might want to follow on Quora.
And yes, I'm on Quora as well, so you can follow me :)
Subscribe to SaaS Growth Hacker
Get the latest posts delivered right to your inbox